3DU-Mobile Scanner
The 3DUniversum (3DU) provides low-cost software solutions for real-time 3D mobile scanning and recognition. The software (app) is suitable for different platforms (IOS and Android) can take different (common) depth camera's including Structure Sensor, Google Tango and Intel RealSense. The innovative technology built in 3DU allows users to scan, view and interact with 3D world objects and scenes around us such as objects (furniture), humans (faces, feet, bodies), and environments (rooms, houses). This creates a universe of possibilities to solve real-world problems with a completely new way of thinking.
3DU-Retail
3D scanning is a disruptive tool in retail as the technology can scan bodies and virtually fit clothes such as shoes, heads, and dresses. 3D cloth fitting will drastically reduce returns and would increase consumer willingness to buy. It is a distinctive competitive advantage vis-à-vis other (r)etailers. If a consumer buys a product (e.g. glasses, shoes) via the internet with an e-tailer, it is important that the product will fit. If it does not fit, or if consumers do not like the item, it will result in returns. These returns are expensive as the distribution and handling costs are for the expense of the e-tailer. If the shop owners have the right size of the customer, this will save substantial distribution and handling costs. 3DU has developed software technology (app for IOS and Android) through which i) consumers can scan and upload a model of themselves with accurate measurements, and ii) the e-tailer can create models of its product listings with the same measurement information. So, a consumer can directly select the right sizes, and can virtually try the products on. Then, the retailer can deliver (or even produce unique items!) the best-fitting products for customer needs.
3DU-Eyewear
3DU-Eyewear app makes it possible to 3D scan and view faces in real-time. 3DU-Eyewear app automatically detects important facial features (e.g. eye corners, pupils, nose etc.). Using our app, you can get automatic measurements of pupil distance, nose bridge size, temple distance etc. You can use our app to tailor or visualize your products (e.g. glasses) to your clients. Please visit our 3du-eyewear webpage for details.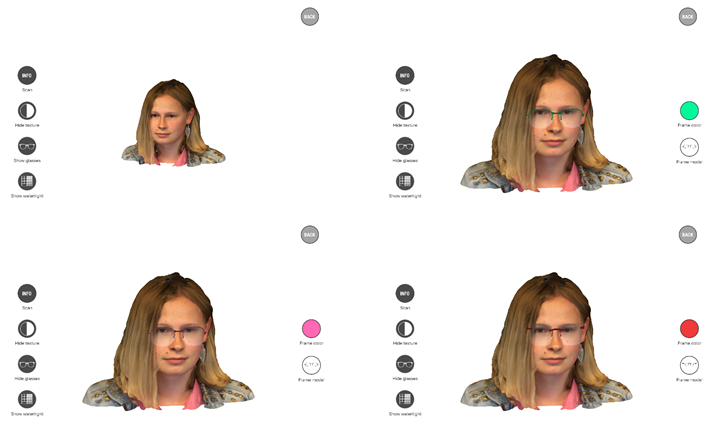 3DU-Healthcare
Worldwide, millions of people suffer from burn injuries every year. To assess the status of burns, it is essential to have the estimation of the size of the burned surface area (body-surface area) and the degree of burn. Only a number of health centers and hospitals use high quality 3D laser scanners (since these laser scanners are non-invasive and they are not user friendly). Moreover, the cost of these scanners is prohibitive (20 KEuro –100 KEuro). With the help of 3DU scanning technology, we allow users to objectively measure and view burns in real-time at low-cost. In addition to the use of 3D burn scanning by medical specialists, the use of low-cost mobile scanning also allows patients (consumers) to scan burns (before or during treatment) at home which are shared and monitored globally by burn specialists via remote viewing/displaying of the 3D burned body areas.
3DU-RealEstate
3DU real-estate software is used for the marketing of for-sale listings of houses. This 3D scanning technology will revolutionize the housing market, following earlier innovations such as full-color print advertisements, web listings, photo slideshows and video tours. The benefits of 3D models of houses and buildings are the following; it will provide prospective buyers with the opportunity to 'walk through' buildings on their computers and get a sense of 'feel' for the building. Additionally, 3D scanners would be able to provide detailed measures and dimensions, eliminating the need for separate detailed measurements. Finally, due to 3DU's unique technology to interact with recognized objects, prospective buyers could redecorate the houses with the furniture of their liking. Real estate investors can make use of the service by either viewing models of available homes to purchase (and save themselves a lot of time), or scanning their portfolio to show rented properties without disturbing tenants each time the property is up for lease. But also homeowners use the 3D software to view what a remodeled room could look like before they set foot in a home improvement or furniture store. 3DUniversum can provide the actual scanning service. In addition, the realtor or hotel rental company can do it themselves. The technology is easy enough for anyone to use.